In the second installment of a new series, we continue to shine a light on the tumultuous early days of artists who have since become household names. Takashi Murakami, 57, may now be an international art star and a cultural icon, but he was once a disgruntled student, bored with his conservative schooling and dreaming of better things. Indeed, when he was just starting out, Murakami claimed no special status as an artist. "I was never particularly talented at drawing or painting," he said; hard work, practice, and determination would sharpen those skills. He had his first solo show in 1989, at Tokyo's Ginza Surugadai Gallery, and began traveling from his native Japan to New York City around that time. Murakami always thought of New York as one of the art world's vital centers, and he was willing to struggle in order to absorb what it had to offer. He recalled once renting a studio on Lorimer Street in Brooklyn for a mere $80 a month ("uncertain whether I would have anything to eat the next day," he added). In 1994, he landed a residency in the prestigious PS1 International Studio Program.These early experiences helped shape Murakami's unique artistic vision. The hyperconfident artist would eventually become a global brand, his manga-inspired creations taking over the world—one wild sculpture and painting at a time.
"At the studio I rented for $80 a month on Lorimer Street in Brooklyn, uncertain whether I would have anything to eat the next day." ©︎ Takashi Murakami/Kaikai Kiki Co., Ltd. All Rights Reserved. Courtesy of Gagosian. Murakami may be beloved for his bright flower-headed figures and frenetic wild-eyed figures, but some of his most pivotal works have a deeply subversive edge. Hiropon (1997), for instance, is a sculpture of a blue-haired woman whose comically oversized breasts unleash a torrent of milk. "I thought that the bizarreness of sexuality manifested in the Japanese otaku culture was unprecedented elsewhere, creating brand-new rules for designing human forms," Murakami explained. "My intention was to merge that form with the rules of contemporary art." This unexpected blending of influences and inspirations would continue to be a hallmark of Murakami's practice, leading to a broader movement that he dubbed "Superflat."
Takashi Murakami, Hiropon, 1997. ©︎ 1997 Takashi Murakami/Kaikai Kiki Co., Ltd. All Rights Reserved. Courtesy of Gagosian.
Takashi Murakami, Field of Flowers, 2019. ©︎ Takashi Murakami/Kaikai Kiki Co., Ltd. All Rights Reserved. Courtesy of Gagosian. One of the artist's canniest moves has been to remain both popular and critically acclaimed. Murakami has shown his work everywhere from the Palace of Versailles to blue-chip galleries, while also undertaking collaborations with brands like Louis Vuitton and red-hot fashion designers like Virgil Abloh. He has directed a feature film (2013's Jellyfish Eyes), expanded his motifs into a line of collectible merch, created a sculpture with pop star Pharrell, and dabbled as a music-video director. Murakami's fine art is represented by powerhouse galleries Perrotin and Gagosian, and the latter is currently showing his new works at its Beverly Hills location through April 13th. Much like Damien Hirst, Murakami has also taken business into his own hands, founding the Tokyo-based art production company and gallery Kaikai Kiki to promote both his work and that of his peers and acolytes.Takashi Murakami, "GYATEI²," at GagosianView Slideshow2 Images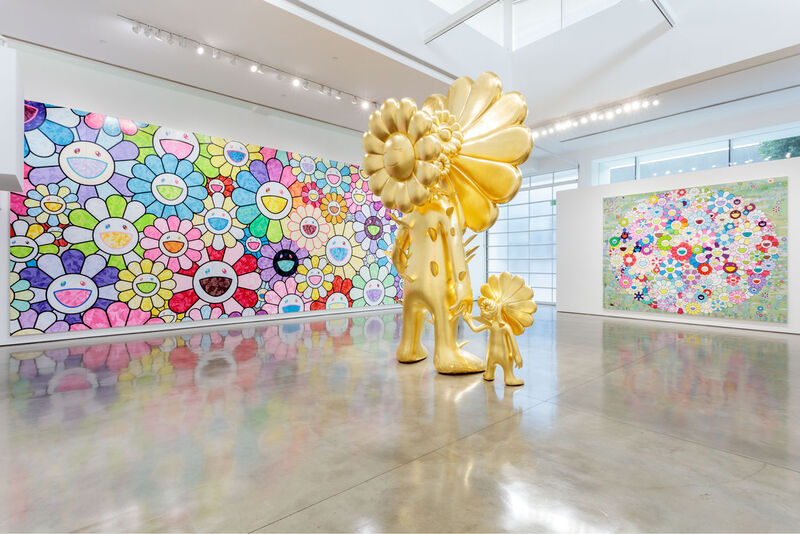 Yet before feverish fans queued around the block to see Murakami and his otherworldly creations, he was much like any other smart young artist laboring in obscurity: driven, curious, and always willing to take risks.

How did you become interested in art?
©︎ Takashi Murakami/Kaikai Kiki Co., Ltd. All Rights Reserved. Courtesy of Gagosian. During my art university years, I think I was running around trying things out in order to understand who I was. First, I wanted to be an animator. I made a few short animation films of my hand-drawn illustrations on 8mm film, hoping to become a filmmaker. I had such enthusiasm that I even invited Hayao Miyazaki, the genius of animation, to give a talk at the university's festival. I also watched George Lucas's behind-the-scenes video on The Empire Strikes Back and fantasized about his special-effects studio, ILM. When Michael Jackson's music-video masterpiece for Thriller, by John Landis, was released, I bought the imported video for Y15,000 (about $162 in today's currency), and watched it over and over at my friend's house, and giddily made an imitation film on 8mm.
While I loved to draw, I wasn't talented, so I needed to first train myself to draw realistic pictures.
When graduation neared, however, I started to doubt I would be able to support myself in this way. Since I trained to paint, I thought I'd give painting another try, and started on my graduation project in earnest. I belonged to the drab Nihonga (Japanese painting) course in the painting department and spent my days in frustration, laying crushed mineral pigments on Japanese washi paper. Nihonga was not a genre where potential talent could blossom. Content-wise, the paintings were inferior imitations of Impressionist works. It was all politics, with a few artists, cherry-picked by galleries and award organizations, constantly vying for power; getting tangled in such politics, young artists had no room to exercise their talents. It was an environment far removed from art, but during the height of Japan's bubble economy, its market moved similar kinds of money as the contemporary art world today.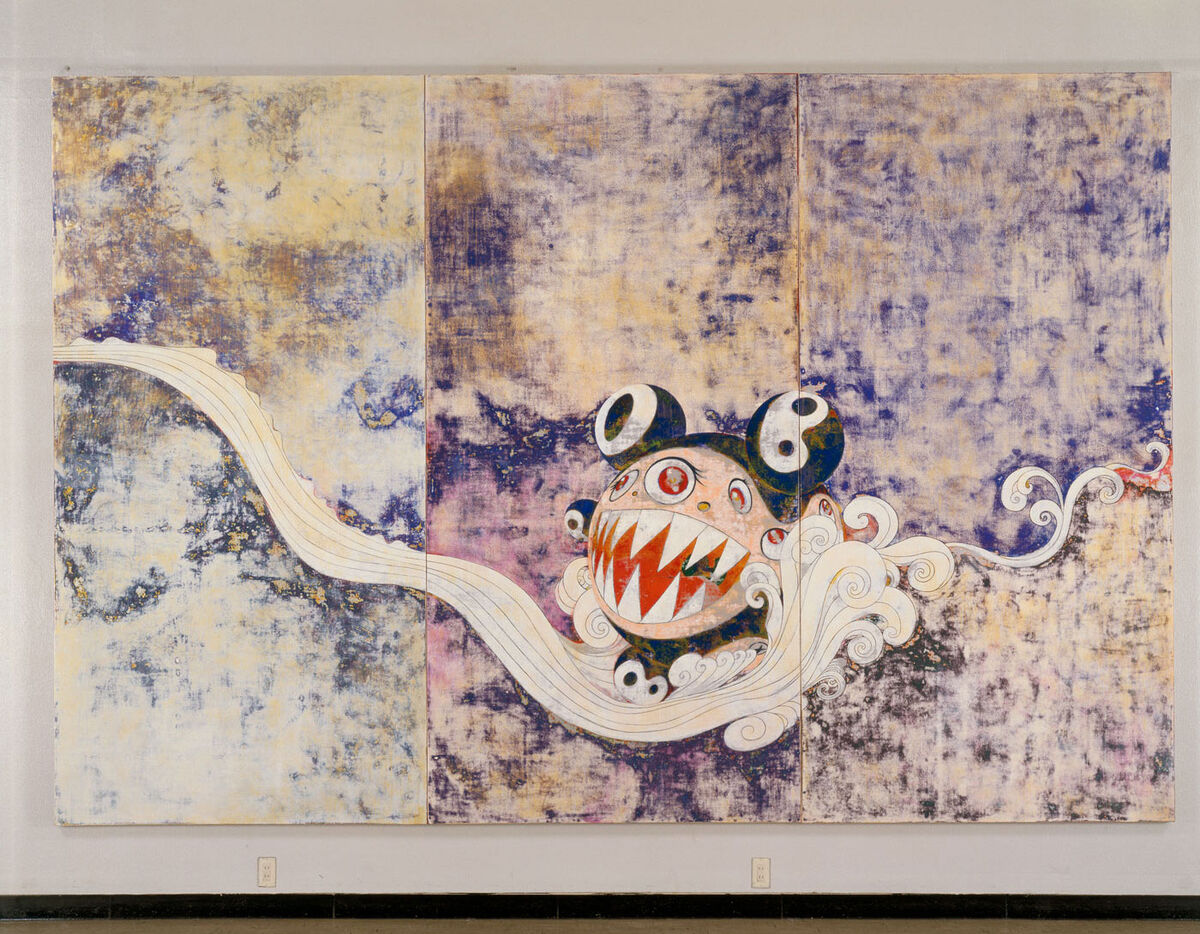 Takashi Murakami, 727, 1996. ©︎ 1996 Takashi Murakami/Kaikai Kiki Co., Ltd. All Rights Reserved. Courtesy of Gagosian. Then, one day, I saw a major solo exhibition by Shinro Ohtake, a contemporary artist greatly influenced by Neo-Expressionism, in downtown Tokyo. I was blown away. I quit Nihonga and became committed to contemporary art. At the time, there wasn't a market for contemporary art in Japan, and if you were to choose it as your path, you had to be prepared to accept poverty. Yet it attracted me because its landscape looked liberating—free of politics, factions, and frictions.
Read the rest…….. https://www.artsy.net/article/artsy-editorial-takashi-murakami-start-artist?