By creating practical, locally made art and furniture, Mbele hopes to inspire younger South African designers to learn and teach.
The Mvelo Desk was nominated as one of the Most Beautiful Objects in South Africa in 2018. More than its aesthetic beauty, the piece of furniture represents two cultures that have been weaved together by solid oak.
Its designer Siyanda Mbele says he took his craft and turned it into a company called Pinda Furniture. The name of his company is derived from a Zulu word for again. He says it represents a time in his life that he refused to give up.
Instead, he chose to follow through with his ambitions as a designer by incorporating the elements that he found lacking in mainstream design. With Pinda Furniture, he recognises the need for African culture to be represented by African designers. "The content is largely western, it's largely European, you learn mostly about European architecture," says Mbele.
Nominated by photographer Trevor Stuurman at the Design Indaba Festival 2018, the Mvelo Desk is a physical commentary on this generation's devotion to career. Mbele wanted to tell the story of how we're often married to our jobs through symbols from Zulu and Ndebele cultures.
Diamond and chevron shapes are festooned along the sides of the Mvelo Desk, which represent femininity and masculinity working together to create beautiful patterns.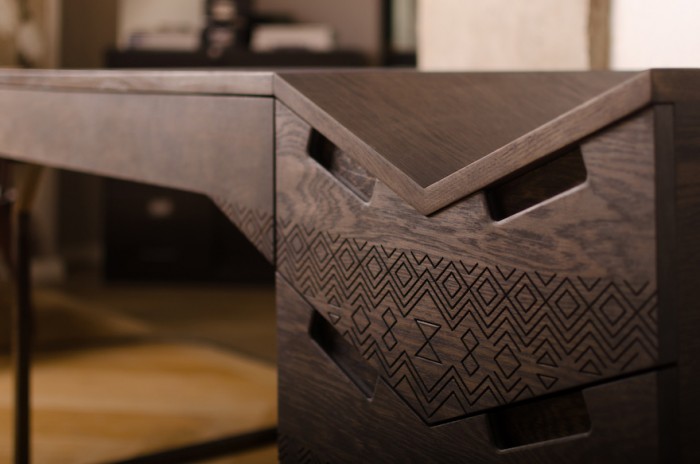 Read full story: https://www.designindaba.com/articles/creative-work/designer-siyanda-mbele-fusing-functionality-aesthetics-and-culture